Het Maria Commando Magazine
The Mary Commandos, Edition nr. 1, 2005, price 12 Euros. Only available for members of sportclub Saint Severius, in combination with a subscription on the periodical Dominus. In this issue: Commandos defend Holy Virgin; The (Catholic Motorclub) Akito Angels (from Recklinghausen in Germany) on Pilgrimage to Amsterdam.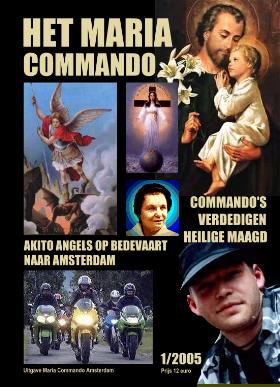 Dutch Secret Police AIVD
deadlinks website
"thugs of Mary fanatics"
The website with the online version of the Mary Commando is no longer in the air. According a message on the Ave Forum the Dutch Secret Police AIVD decided to take action after a complaint about this "thugs of Mary fanatics".
All Mary Commandos train at the Catholic
Saint Severius
Sportcentre
"to protect the honour of the Holy Virgin".
according to an old Spanish tradition.
According the same message on Ave Forum this Mary Commando had plans to "torture everybody saying something negative about the Mother of God " Not knowing that such is "for centuries out of fashion in the Catholic Church".